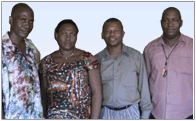 African Information Technology Holdings, (AITH), formerly National Cash Register (NCR) an NCR subsidiary, was formed in 1995. The NCR subsidiary was established in Freetown, Sierra Leone in 1954. NCR is the world's No 1 manufacturer of Self Service products with revenue of $5.32 billion (2008). In addition to being NCR's sole distributor in Sierra Leone, we are Sierra Leone's premier IT organization.
AITH took over the operations of the NCR subsidiary when the parent company refocused its business out of the country at that time. The company is wholly Sierra Leonean owned with its registered headquarters in Freetown, Sierra Leone, and branches in Liberia and the Gambia (where it commenced operations in 1960). We have expertise in data communication, networking, PC hardware and software maintenance and repair, training, desktop publishing, website design and hosting, and more. We assist organizations in developing new solutions that support their present and future connectivity needs. Our resources include network infrastructure, consulting, and services relating to IT development and technology, graphic design, marketing, competitive research and business development support and services..
We have the IT resources and consultant support from NCR's global technical team, Dell, IBM, APC, HP-Compaq, Tally Genicom, CR2 and other international reputable IT Suppliers.
Our services include
Sales, customisation, installation, and maintenance of NCR Self Service Automated Teller Machines and other products
Marketing and sales of personal computers (desktops and laptops), servers, printers, power protection equipment, photocopiers, peripherals, their accessories and consumables
Pre and post-sales supports for all products sold
Repair, maintenance and upgrading of computer hardware
Network planning & design, installation and maintenance
Multivendor Services Technology Integration
Systems analysis and design, with consultancy and project Management
Internet Cafe operation, desktop publishing, and photocopying.
Computer hardware and software training with certification.
We have a team of qualified and skilled management staff that have over the years successfully managed the company's operations. Our technical staff are trained abroad at the suppliers sites and locally and hold certifications that are updated periodically to give our customers the best expertise available with multiple years of experience in the field.
AITH is the only IT Company in Sierra Leone that has a history in the sales, repair and maintenance of self service products, personal computers, servers, peripheral and ancillary devices spanning three decades.