AITH training department deals with the training of users in both software applications and computer hardware.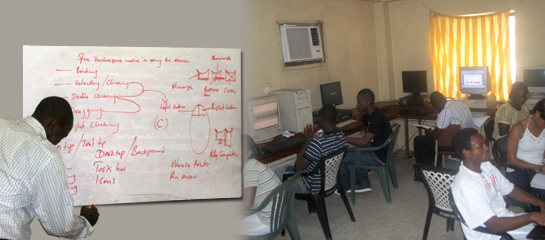 Hardware training is offered at both certificate and diploma levels, involving courses like electronics, hardware (repairs, maintenance, and trouble shooting), data processing, operating systems and application packages etc.


Students for the software class can choose the time they want to take their classes between 8:30am - 7:00pm. The classes are small in size to afford proper attention to each student who is assigned their own computer for the duration of the course with well trained and qualified tutors leading the classes.
Training Centre offerings are listed below:
Introduction to personal computers and Microsoft windows as an operating systems.
The word processing program – Microsoft  Word 2000/2003/2007
Spreadsheet Application – Microsoft Excel 2000/2003/2007
Graphics Design / Presentation – Microsoft PowerPoint
Publication designs / types, typesetting, lay outing and production – Microsoft Publisher
Database designs and Management – Microsoft Access
Worldwide Computer Communication -  Microsoft Internet  Explorer
Programming in Visual Basic
Training IT Technicians in PC Hardware engineering with courses in PC Hardware, Electronic, Data Processing, Operating Systems and Introductory Application Packages.
Training in Office Administration and Management (Administrative Assistants) with courses in: Office Admin and Management, Office Practice/Office Skills, Effective communication, and Information Systems
Student have three weeks lectures per program in which twelve days are effective teaching and two days (Wednesday and Saturday) are practicing days.

Our Hardware students have secured postions at many of the big banks, phone companies and other IT institutions in the country because of the training our well qualified tutors provided them.  Learn in AITH and be taught under a conducive atmosphere with ample time for practicals and hands on experience in the IT Department with experts.

AITH also have fully air conditioned class rooms for both executive and general classes.
Executive classes are conducted at the chosen times given by the student, either at their homes, offices or in the training department.  Group classes are also offered to offices / corporations for their staff or at schools / other higher education institutes for students at their different campuses. Sign up now for one of our executive courses.
For more information about the training please contact out training centre or Training manager with your questions or inquiries.
Mr. Abdul Ben Foday Training Manager
Phone: +232-22-224106
Email: This e-mail address is being protected from spambots. You need JavaScript enabled to view it